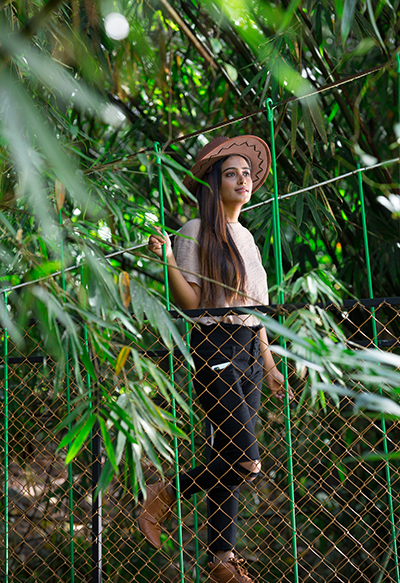 Situated a little distance away from Vythiri town, at the edge of a rainforest, the Vythiri Holiday Resort is a delightful nature getaway. A pathway meanders uphill and guests are welcomed with birdsong and staccato rhythms of insects and anonymous denizens of the obscured by the dense forest.
The lobby of the resort is set beside a swimming pool, an elliptical track for joggers, a play area and a spot for after sunset barbeques. A lively stream with its origins higher up in the mountains, passes beneath a little bridge into a bamboo thicket and the forest beyond. The resorts dining areas are set beside the lobby with a spacious banquet area and room for indoor activites above.
Chembara Peak, the highest in the area looms over the property beside other mountains that stretch into the skyline. The pathway from the entrance winds uphill past of rows of twin bedroomed cottages with sloping roofs and set along the hill-slope. The cottages are all elegantly furnished and equipped with all requisite domestic amenities.
The passage of time is imperceptible here as you are held in thrall by sights and sounds, nature's primal music.